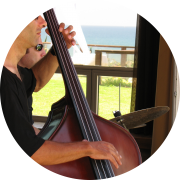 Vinnie
Accompaniment/Bass Guitar/Double Bass/Improvisation/Music Education
The first lesson is always a trial lesson.
If for any reason you are not happy we will fully refund any pending charges or help you find a new teacher. Your choice!
Subjects Taught
Accompaniment
Bass Guitar
Double Bass
Improvisation
Music Education
Ages Taught
Children
Teens
Adults
Seniors
Languages
English
Russian
Bulgarian
Hebrew
Teaching Statement
Curriculum Theory
1. Keys, Intervals, Building Chords, Tempos, Rhythm, Composing, Performing Melody, Soloing
2. How to use metronome
3. Working with playbacks
4. Learning new styles, and how to play them
5. Learning the bass equipment and how to buy your next Guitar and Amp. Create Your own tone, sound and style
6. Playing together with Teacher as entrance into playing with professional musicians
7. Advanced students - learning grooves inside the bass line; learning all small tips that impress
-----
Working Resources
David Overthrow - Beginners, Intermediate, Advanced
Rich Appleman - Reading Contemporary Electric Bass Rhythms (Bass Method) Ed Freidman - Bass Grooves
John Patitucci:
1. Electric Bass
2. Electric Bass 2 (6 Str.Bass)
3. Ultimate Play-A-Long 1
4. Ultimate Play-A-Long 2
Essential of Styles N1 & N2
Bass Bible
All Realbooks
All Jamey Aebersold Volumes
Note:Playbacks used in almost all lessons
-----
I offer the following services:
1. Bass lessons 
   Include:*Keys,*Intervals,*Chords,*Scales
   *Moduses,*Technical examples 
   *Musical Theory
    *Bass Lines
2. Music Theory
     Include:How to build 
    *Intervals,*Chords & analyses ,
     *Scales *Moduses,*Pentatonics
3. Playing with pro musican.
    It could be every instrument as:
    *Piano,*Drums,*Bass,*Guitar
    *Sax,*Flute,Every instrument 
    Included:
    How to play with 2 & 4 beat.
    How to play melody and how articulate
    for different styles.
    Learning New Styles
    Comping in different situations:
    Solo, Duet, Trios, Quartets etc.
4. Improvisation
    Have to be at least 4-5 years experience.
    This the most advanced level and 
    have  to know all idioms like 
    II - V - I, in all different keys and variations
    Include chord analysis, scales modes,
    And learning all tools for improvisation.
5. Band leader:
    This is session with at least 3 Musicans 
    that have at least 4-5 years experience 
    And have good first sight reading.
    The idea is here how to play on band 
    With other musicians.
     Piano or Guitar, bass & drums.
    It could be any variation but at least 
    I need 1 harmony instrument.
    Or piano or guitar.
    For this we need studio place with amp
    Drums & Mics.
Education
Knowledge: Master degree in the music.
Experience: 25 years on the stage.
As A teacher: 15 years.
Styles: Blues, Gospels & Spirituals, R&B,
Reggae, Afro, Afro-Cuban, Cuban. Bossa Nova, Samba, Swing, Jazz, Fusion.
(Include all Bulgarian complicated Balkan Grooves)
Recorded CD: 4
Languages: English, German, Hebrew, Bulgarian, Russian
Instruments:
1. Contrabass,
2. Upright Electric ,
3. 6 String Fretted & Frettless Basses
Biography
Vinnie Venkov was born in 1967 in Sofia,Bulgaria.
He entered The bulgarian State Conservatory and graduated in 1993,majoring in bass guitar.
His second instrument is acoustic Bass (Contrabass).
In February 1997 Vinnie emigrated to Israel.Six months later he received a 75% scholarship from Rimon School,based on Berklee College of Music.
The Jazz Festival Ashdod
In 2001 He was invited to The Jazz Festival Ashdod organized by the famous musician Leonid Ptashka.
There he played with Ivan Kolev,a famous Bulgarian folk Musician,playing jazz and Bulgarian folk together.
Some months later he was invited by another new Group,Taxijazz,with whom he has played until now.
He has recorded three CD's with them.In 2002 He was invited with Taxijazz to The Tel Aviv Jazz Festival called
''Jazz,Blues and Videotape"(This was the first group in the Festival that used video while playing).
CD Recorded
In 2003 he recorded two CD's with Arik Strauss in the Latin and Fusion Styles.
In 2004 Vinnie build his group ''River Band" and recorded on videotape.Some months later he did some concerts with his band in different formations,trio,quartet and quintet.
Projects
In the same year Vinnie was invited by Ari Erev in another jazz project "Jazz from The Heart",dedicated to legendary Jazz Piano Player Bill Evans.
In February 2007 Robert invite him in another project. Its Sextet with three alto saxes. There he meet Jamie O'Donnell alto sax,from UK. Also in the same time began to play in other project with Dudi Sofer,piano player.
Tel Aviv Jazz Festival 2007
In February 2007 He was invited with Ilia Perelstein Trio and Robert Anchipolovsky to The Tel Aviv Jazz Festival 2007.
This is his third time on Jazz Festival. The Festival opened for him new doors,for new projects.
International Gospel Experience
For The past 8 years he has also been playing in another Gospel Project,with which he went on musical Tours in Canada,Holland,Ukraine,and Switzerland - at one of the biggest Gospel Festival In Europe before audience of more than 7000 people.With this group he recorded two CD's.
In For the past 15 years Vinnie has played more than 500 concerts in every respected places all over Israel.
In 2012 he was invited to a very important conference which took place in America, Pennsylvania.
The gospel forum MJAA collect Jewish musicians from across North America.
Held each year, and from 2013 also was invited, because the entire group perform very well.
In the summer of 2014 he was invited in a new jazz band in Toronto in which he organized weekly concerts for a year.
Place Coffee Jazz Mix played an important role in the creation of important contacts and meetings of many popular jazz musicians in Toronto.
He met musicians like: Igor Babic, Janaia Farrell, Sergei Krutik, Alex Zlotnik, Alex Severinets, and many others.
Studio Policies
The music is based on three important things
Melody, Рhythm and Хarmony
In lessons include different exercises that
cover these three things.
In most cases, I pay attention to work only with one problem, which make the way easier for the student.
The other thing that is important is to focus on building a bass technique.
I use intervals, chords, scales, modes, pentatonic with specific fingerings for all the above.