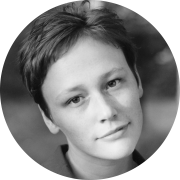 Zoellyn
Improvisation/Musical Theatre/Viola/Violin/Voice
The first lesson is always a trial lesson.
If for any reason you are not happy we will fully refund any pending charges or help you find a new teacher. Your choice!
Subjects Taught
Improvisation
Musical Theatre
Viola
Violin
Voice
Lesson Locations
Teacher's Studio
Student's Home
Ages Taught
Children
Teens
Adults
Seniors
Teaching Statement
I have been teaching all my life whether it is a drama workshop, how to bake cookies or when to prune a specific plant. I love showing others how to perfect a skill and hone their potential. I love to see commitment to results in my students.
Education
Completed 2 diploma programs not related to music.
Biography
Zoellyn has been playing the violin using the Suzuki Method since she was three years old. She has appreciated her musical skill and the tough love that pushed her through the 'I don't want to practice' times her entire life. Zoey loves to improvise and jam with bands on her violin.
Studio Policies
If coming to my home studio I have 2 cats and a dog who love everyone.
I would prefer parents to stay for the lessons and take notes.