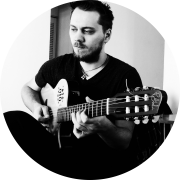 Lubo
Guitar/Guitar (Classical)/Guitar (Electric)/Guitar (Jazz)/Theory (Jazz)
The first lesson is always a trial lesson.
If for any reason you are not happy we will fully refund any pending charges or help you find a new teacher. Your choice!
Subjects Taught
Guitar
Guitar (Classical)
Guitar (Electric)
Guitar (Jazz)
Theory (Jazz)
Ages Taught
Children
Teens
Adults
Seniors
Levels Taught
Beginner
Intermediate
Advanced
Teaching Statement
I am very patient person with strong sense for detail. It was the patience that showed the positive results with my students. The instrument and overall performance will reveal how detailed we were while practising; therefore I appreciate and praise every single step my students do on the way to their musical success.
Communication with students and their parents along with the internal motivation are very important for self-improving as well. My six years teaching experience revealed that each of the students is different in a way of sensing the music, approaching the practising and expressing the music; therefore, in my humble opinion, the only way to success is patience, motivation and communication with the students and their parents.
Education
University of Presov in Presov
Private conservatory of Dezider Kardos
Art school of Mikulas Moyzes - jazz department
Biography
I started musical education at age of 12, however, it was a couple years ago when I first picked up the guitar and started the process of self-learning. The musical lessons, I went through, took me from country to rock/metal and grunge music through jazz and classical music.
My jazz studies were conducted by members of AMC Trio, especially by Peter Adamkovic (piano) and Martin Marincak (double bass). In the course of four years studying jazz music, they took me through the various jazz standards and harmonies, rhytms such as swing, blues, latin jazz and numerous ways of improvisation techniques. Since this time I was an active guitar player in various musical projects in my home town and I am continuing my musical career here in Vancouver as a guitar player for Elza.
Strange as it may seem, my experience with jazz took me to the field of classical music. I started with self-education and later on continued with my studies at Private conservatory of Dezider Kardos in Presov and at University of Presov in Presov.
I started teaching the guitar during my studies at the university what makes me an active guitar tutor for more than 6 years. I recorded guitars for an amateur/home-based studios and various singers.
Studio Policies
Learning is more efficient when students come prepared and organized. I require that my students will have notebook for writing down the notes and ideas as well as a tuner. I would love you to bring some examples of the music you are interested in so that we can easily work out the way we set up our meeting.