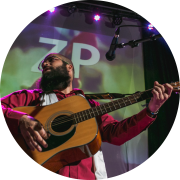 Zeca
Bass Guitar/Guitar/Improvisation/Music for Young Children/Theory
The first lesson is always a trial lesson.
If for any reason you are not happy we will fully refund any pending charges or help you find a new teacher. Your choice!
Subjects Taught
Bass Guitar
Guitar
Improvisation
Music for Young Children
Theory
Lesson Locations
Teacher's Studio
Student's Home
Ages Taught
Children
Teens
Adults
Seniors
Teaching Statement
Zeca has a very exciting method and teaching philosophy. He believes the key to learn playing an instrument is directly related to how often and hard the student is going to be practicing. With relaxed and funny games, the student is going to be encouraged to discover the wonderful world of music and fall in love with it.
Education
Zeca has studied popular guitar in Brazil and he's self thought at several other instruments, such as drums, bass, saxophone and percussion.
Biography
Zeca is a brazilian professional multi instrumentalist musician, composer and music teacher. He's been playing professionally and teaching music for the last 14 years. Zeca has been playing in several genres bands and projects. His specialties are rock'n roll, blues, soul music and brazilian traditional samba and forró.