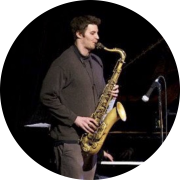 Christian
Clarinet/Ear training/Improvisation/Saxophone
The first lesson is always a trial lesson.
If for any reason you are not happy we will fully refund any pending charges or help you find a new teacher. Your choice!
Subjects Taught
Clarinet
Ear training
Improvisation
Saxophone
Lesson Locations
Teacher's Studio
Student's Home
Ages Taught
Children
Teens
Adults
Seniors
Levels Taught
Beginner
Intermediate
Advanced
Teaching Statement
I believe development in music and specifically development on the instrument you play should be a process that involves creativity, consistency, enjoyment, self realization and realistically, work. In order to improve at anything in the life you must be willing to find the commitment. That being said, the very most important thing is to never lose sight of what drew you to begin playing your instrument in the first place.
Education
Graduate of the Bachelor of Musical performance at Humber College - Tenor Saxophone
Biography
Christian Brown is a Jazz Saxophone/ Clarinet player and recent graduate from Humber College. Christian is both a freelance musician and a part of The HMCS York Naval Reserve band. Having studied the Saxophone for over ten years with Canadian jazz icons such as Pat LaBarbera, Kirk MacDonald, Neil Swanson, Chad Makela, Nick Morgan, among others, Christian has accumulated a great deal of playing experience and performance experience including playing in the Ottawa Jazz festival.