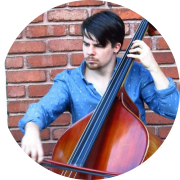 Joshua
Bass Guitar/Double Bass/Improvisation/Musicianship/Theory (Rudiments)
The first lesson is always a trial lesson.
If for any reason you are not happy we will fully refund any pending charges or help you find a new teacher. Your choice!
Subjects Taught
Bass Guitar
Double Bass
Improvisation
Musicianship
Theory (Rudiments)
Lesson Locations
Teacher's Studio
Student's Home
Ages Taught
Children
Teens
Adults
Seniors
Levels Taught
Beginner
Intermediate
Advanced
Teaching Statement
I love being a teacher. I love music of all kinds, and have extensive knowledge of many genres. I can teach you jazz, classical, pop, and many other things.
My students have been known to be proficient in any situation - from a film orchestra, to jazz, to popular bands. I believe in a well-rounded education that is founded in music theory enabling you to quickly understand any situation that you'll encounter.
I love being able to understand music through hearing it - and then being able to write it down. I push for an analytical view of music so that when under pressure you will feel less tense as you will be able to hear what will happen in the music.
Education
Bachelor's of Arts in Music Performance, classical interpretation. Bishop's University.
- I spent most of my time during this degree in Montreal freelancing, or in Sherbrooke playing with several professional ensembles.
- I have won awards for my community efforts and initiative in music.
Biography
Hi!
My name is Joshua. I'm an experienced orchestral bass player that also loves to play chamber music. I also enjoy playing jazz and can be seen in Montreal and around the region playing in a variety of music groups, such as: symphony orchestra, choirs, chamber music, solo music, jazz, and much more.
I have a Bachelor's in Music Performance where I specialized in orchestral and chamber music. I am also an experienced arranger and orchestrator, and from time to time you'll hear my arrangements in the Montreal region.
I am also an experienced and welcoming teacher. The teacher that I studied with was very welcoming in my interest in all music styles, and I strive to replicate that with my students. I am extremely accommodating and I love to teach - even more than performing at times.
Studio Policies
I dislike it when students are late. It is important as a bassist of any kind to never be late - we are often the foundation. I also like my students to be well prepared. Punctuality and preparedness are two of the most important traits in a bass player, or musician of any kind, and they need to be respected.