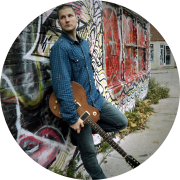 Taylor
Composition/Guitar/Guitar (Electric)/Music Production/Music Recording
The first lesson is always a trial lesson.
If for any reason you are not happy we will fully refund any pending charges or help you find a new teacher. Your choice!
Subjects Taught
Composition
Guitar
Guitar (Electric)
Music Production
Music Recording
Lesson Locations
Teacher's Studio
Student's Home
Ages Taught
Children
Teens
Adults
Seniors
Levels Taught
Beginner
Intermediate
Advanced
Teaching Statement
My teaching philosophy includes; gauging students goals, abilities, and musical preferences. I believe in a stress-free learning environment. The most important thing when learning to play the guitar is to just relax and have fun. Discipline is a necessity for an individual's growth as a musician, however, imposing such high demands on a student, can have devastating consequences for the individual's motivation to learn. Learning the guitar needs to be a fun and enjoyable experience!
Education
Diploma of Sound and Music Recording at Recording Arts Canada, in Montreal, QC.
Biography
My name is Taylor. I am a 25 year old musician and sound engineer; I offer private guitar lessons.
I specialize in classic rock and metal, however, I can teach other playing styles as well. I have taught guitar lessons for music stores, over the internet, and out of my home for the past five years.
I am primarily self-taught, and am capable of teaching beginner, intermediate, and advanced lessons. I am also a graduate of Recording Arts Canada in their Sound and Music Recording Program.
These guitar lessons are fun, focused, and cover everything that is needed for you to move quickly toward your goals. I will give you the guidance, encouragement, and motivation necessary to become a skilled guitar player.
It's important to have a personal guitar instructor observe your skills to ensure that you don't develop incorrect playing techniques.
Studio Policies
Please show up 5 to 10 minutes in advance. No eating or drinking is allowed in the studio, and shoes must be removed at the door.