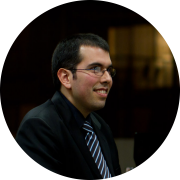 Alejandro
Piano/Piano (Classical)
The first lesson is always a trial lesson.
If for any reason you are not happy we will fully refund any pending charges or help you find a new teacher. Your choice!
Levels Taught
Beginner
Intermediate
Advanced
Teaching Statement
It is my goal as a music teacher to provide a comprehensive and well-rounded program of instruction in order to grow students' appreciation and understanding of music. For this development to take place a balanced approach involving technique, theory, sight-reading, ear training and a variety of solo and ensemble repertory is needed. Students are encouraged to attend concerts and to participate in programs designed to enhance progress like workshops, masterclasses, public recitals, music festivals, competitions and RCM exams. Learning to play the piano well is an enormous challenge, often requiring many years of hard work and outstanding teaching. Students are respected as individuals with unique facilities and challenges. That said, effective progress depends on both effort and quality in practice. Parents are encouraged to support and provide guidance at home, particularly for younger children that might need questions answered and that are still in the process of developing good learning habits. A regular practice schedule that won't conflict with other family or school activities is highly recommended.
As a teacher I aim to do to my students what other great pedagogues and luminaries thankfully did for me in the past: I aim to instill a sincere love for music, for the adventure of learning, I aim to open students' hearts and minds to be sensitive to beauty and to all the other depths of expression music can achieve. This is the cornerstone of my method. With this in place all the other difficult tasks as a teacher begin to fall nicely in place: self discipline, hard-work, the thirst for the pursuit of mastery. Only by reaching into the meaning of the music true enjoyment of performing and learning is born. The great Canadian pianist Glenn Gould said it best "The purpose of art is not the release of a momentary ejection of adrenaline but rather the gradual, lifelong construction of a state of wonder and serenity."
Education
Doctor of Musical Arts in Piano Performance. McGill University.
Master of Music in Piano Performance. McGill University.
Bachelor of Music in Piano Performance. Universidad de los Andes.
Biography
Alejandro Ochoa (Doctor of Musical Arts) graduated Magna cum Laude from Universidad de Los Andes (Colombia), where he studied with the celebrated Cuban pianist Ignacio Pacheco. As well as performing extensively throughout Colombia, Alejandro has given numerous solo and chamber music recitals in Canada, Germany, The Netherlands, Portugal and China. As a fortepianist he has been heard in Vancouver, Montreal and Bruges, Belgium.
His latest CD recording for the label Enkii Records features works on fortepiano by C.P.E. Bach, Scarlatti, Haydn, Mozart and Beethoven.
On top of a being a soloist and chamber recitalist, Alejandro is deeply devoted to teaching. Under his tutelage, his students have won multiple prizes at local and national competitions. He has instructed piano at McGill University and is currently on faculty at the Vancouver Academy of Music and Kwantlen Polytechnic University. Alejandro is a competition medalist and is the recipient of multiple prestigious awards and grants. He is also the Artistic Director of the Blueridge Chamber Music Festival, pianist at the Broadwood duo, and cofounder of Top Music Teachers.
More info: www.alejandroochoa.com
Studio Policies
It is the student's responsibility to attend the lessons at their scheduled time. Cancellations with less than 48hrs of notice will not be given a make-up lesson. If more than 48hr notice, it is the student's responsibility to coordinate with me to find a time for this make-up lesson to take place. If no time can be found for a makeup, credit for the lesson will be provided. Reasons such as not practicing, birthday parties, dentist appointments, etc are not valid for missing lessons. If I need to cancel a lesson, a make-up lesson or credit for the lesson will be provided.