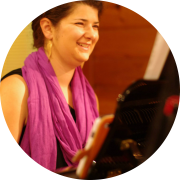 Nina
Accompaniment/Piano/Theory (Music History)/Theory (Rudiments)/Vocal coaching
The first lesson is always a trial lesson.
If for any reason you are not happy we will fully refund any pending charges or help you find a new teacher. Your choice!
Subjects Taught
Accompaniment
Piano
Theory (Music History)
Theory (Rudiments)
Vocal coaching
Lesson Locations
Teacher's Studio
Student's Home
Ages Taught
Children
Teens
Adults
Seniors
Levels Taught
Beginner
Intermediate
Advanced
Teaching Statement
Every person is innately musical and just needs the right tools to discover their talents. I work together with my students to find the right mix of musical styles, theory and practical learning to foster a lifelong love of music. My approach is grounded in a foundation of musical, technical and theoretical skills that can be applied to any style of music. Lessons will not only allow students to realize their full musical potential but to develop focus, discipline and problem solving skills that can be applied to all aspects of life.
Education
University of British Columbia- Diploma in Collaborative Piano- 2013
University of Denver- Masters of Music, Solo Piano- 2010
University of Victoria-Bachelors of Music with Distinction, Solo Piano and Music History- 2008
Royal Conservatory, Teacher's ARCT- 2003
Biography
Nina is an active musician in the Vancouver scene whether it is on stage or behind the scenes. Raised in Rossland, BC, Nina completed her Teacher's ARCT before going on to further studies at the University of Victoria, University of Denver and University of British Columbia.
Nina's greatest passion has always been collaborating with other artists, especially in the creation of new works. She is an active leader in the musical community working as a co­founder and director of three new vocal ensembles while in Victoria and as the creator of the First Tuesdays concert series in Denver.
As a performer, Nina has been fortunate to perform as a chorister and pianist on three different continents. She has collaborated with artists throughout Canada and the United States with a special focus on vocal and brass music. She is committed to bringing music to small communities like those in her home region of the West Kootenays, where she regularly returns to perform.
Nina began teaching under the guidance of her childhood teacher Margaret Purdy when she was 15 and has gone on to teach students from ages 4-70. Her approach is based upon nourishing every students inherent musical abilities through fostering their love of music and the arts with curriculum customized to each student. Her goal is to help students develop artistic and practical skills that can be applied throughout their life and work.
With over ten years of teaching experience she has taught private students from beginning to advanced levels, group piano classes for beginners as well as music theory and history.
Nina recently returned to Vancouver after spending a year as a staff pianist and vocal coach at Dalhousie University in Halifax. She was recently appointed the Operations Coordinator for the Vancouver Bach Choirs and is also looking forward to singing with the Vancouver Cantata Singers, working with artists in the college program at the Vancouver Academy of Music and continuing to pursue her own freelance and teaching career.