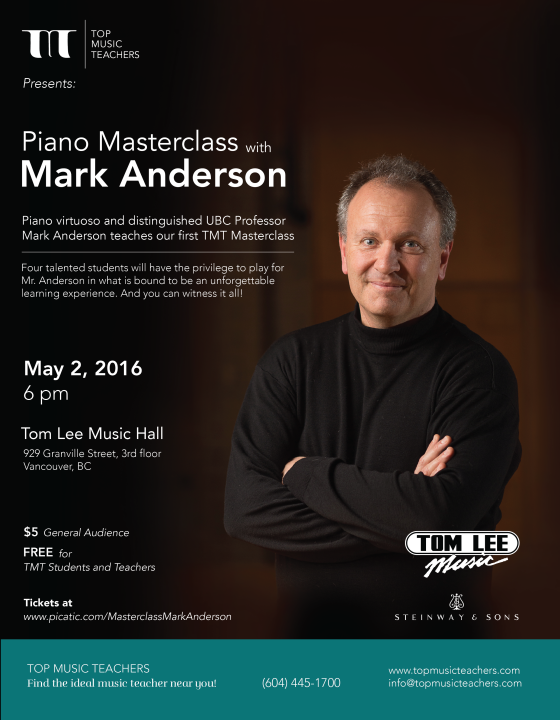 Top Music Teachers is very proud to present the fantastic Mark Anderson in our first piano masterclass event. Four of our talented Vancouver students will have the privilege to play for Mark in what is bound to be an unforgettable learning experience. And you can witness it all!
"A supreme musical talent with clear ideas on interpretation.... " - BBC Music Magazine
"Anderson has a wonderful gift for achieving great warmth in the whole piano-sound whilst keeping every strand clear and luminous. He boasts not only the full-scale grasp of the music, but the immaculate pedal technique needed to realize it. He is a musician eminently worth hearing." - Financial Times, London
Steinway Artist Mark Anderson, a native of the San Francisco Bay Area, has established himself as a world-class soloist, chamber musician and teacher. After winning major prizes at the 1992 IMCJ (Japan), the 1992 Busoni Competition (Italy), the 1993 Leeds (U.K.) and 1994 William Kapell (U.S.) International Piano Competitions, Mark Anderson toured much of the world as recitalist and soloist. He has performed in Japan, throughout the former Soviet Union, Europe and Great Britain, Ireland and North America. He is invited regularly to perform as soloist with orchestras throughout the U.S. and abroad.
Mr. Anderson is Assistant Professor in Piano, Piano Pedagogy and Chamber Music at the University of British Columbia.