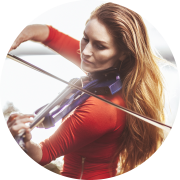 Suzka
Aural Training/Improvisation/Violin/Violin (Baroque)/Violin (Jazz)
The first lesson is always a trial lesson.
If for any reason you are not happy we will fully refund any pending charges or help you find a new teacher. Your choice!
Subjects Taught
Aural Training
Improvisation
Violin
Violin (Baroque)
Violin (Jazz)
Ages Taught
Children
Teens
Adults
Seniors
Teaching Statement
I love watching students learn and grow and I am very passionate about making lessons fun and positive to make sure
the enjoyment of music lasts and inspires my students.
Education
Vancouver Music Academy
Hannover Conservatory- Germany (Hannover)
University of London (Holburn)- School for Performing Arts
Biography
I am a professional violinist and teacher for the last 15 yrs. I was taught Suzuki Method on the violin and piano since the age of five at the Vancouver Music Academy and later went on to perform locally and worldwide.
I later receieved my Suzuki Violin Training in my early 20's and also took Jazz and World Violin at the Vancouver Community College under master Lache Cercel.
I have since been performing and teaching locally with several students on the North Shore. I enjoy teaching beginners and those ready to take it to the next level in improv, jazz, and pop. I also record for the film and television industry so I am a seasoned session player and recording artist.
Studio Policies
If parents attend classes, they may not interfere and or talk for their child during the class unless absolutely necessary. It is also advised that siblings or friends do not attend as it disrupts the learning and concentration of the student.